Pushback Continues: States Grow Increasingly Wary of Common Core
Common Core is on the ropes. More and more states are pulling back from the national standards as the 2014–15 school year implementation deadline looms near.
In Louisiana, Governor Bobby Jindal (R)—formerly a Common Core supporter—is now encouraging the legislature to remove the state from the Common Core aligned Partnership for Assessment of Readiness for Colleges and Careers (PARCC) test. And if they don't act, he will.
Jindal's new stance comes after eight members of the Louisiana State House of Representatives sent him a letter, informing him of his prerogative to opt out of the standards and encouraging him to do so. As The New Orleans Advocate reported:
"Gov. Bobby Jindal said Monday that a gubernatorial order for the state to drop controversial Common Core tests is a 'very viable option' if state lawmakers fail to act. Jindal made the comment in response to a letter from eight House members who said the governor can opt the state out of the exams and should do that… 'We believe you have the authority, as governor, under the 2010 PARCC memorandum of understanding, to opt out of the consortium,' state Rep. Brett Geymann, (R–Lake Charles), and seven other legislators wrote."
In a statement released on Monday Jindal said,
"We share the concerns of these [anti-Common Core] legislators and also of parents across Louisiana. We're hopeful that legislation will move through the process this session that will address the concerns of parents or delay implementation until these concerns can be addressed. We think this course of action outlined in the legislators' letter remains a very viable option if the Legislature does not act."
But as The Times-Picayune reports,
"On a practical level, there is some question as to whether Jindal can unilaterally tear Louisiana away from the PARCC consortium, in which 16 states plus Washington D.C. participate. [Louisiana Superintendent] John White and Louisiana Board of Elementary and Secondary Education [BESE] president Chas Roemer said their permission is also required to leave the consortium, and both White and Roemer—who also avidly supports Common Core—are unwilling to do so."
Meanwhile, this week in South Carolina, State Superintendent Mick Zais officially withdrew his state from the Common Core aligned Smarter Balanced (SBAC) tests. In a letter to the State Board of Education, Zais wrote:
"I want to have a high quality assessment that meets the specific needs of South Carolina, at a competitive price. If we continue to focus only on Smarter Balanced, we lose any opportunity to consider alternatives….
In consideration of the foregoing, and the discovery that I have the authority to withdraw South Carolina from its status as a governing state of the Smarter Balanced Assessment Consortium, and after full consultation with the Governor's Office and appropriate members of the General Assembly, I am informing you that I am exercising that authority."
Oklahoma, too, is currently in a battle over Common Core. The state senate passed a bill earlier this month downgrading the state's involvement with the national standards, although there is some difference of opinion as to whether it would fully remove Oklahoma from the standards, or merely change the name of the standards.
Governor Mary Fallin (R), a supporter of Common Core and chair of the National Governor's Association which helped develop the standards, said in a statement that she "support[s] passing legislation that increases classroom rigor and accountability while guaranteeing that Oklahoma public education is protected from federal interference…"
Meanwhile, the Missouri House of Representatives passed their bill to find a Common Core replacement.
"We're going to create the process to have Missouri standards and Missouri assessments," State Rep. Kurt Bahr (R), who introduced the measure, stated. The proposal requires that by October 1, 2014 the state board must develop new academic standards by the following October 2015, in place of the Common Core, and adopt and implement these standards by the 2016-17 school year.
Fifteen states have now made strides in halting or downgrading their involvement in the standards. Last month, Indiana became the first state to exit Common Core. This is promising momentum in the effort of states to reclaim their educational decision-making authority.
SOURCE
Nebraska School Gives Most Idiotic Advice Ever to Deal with Bullies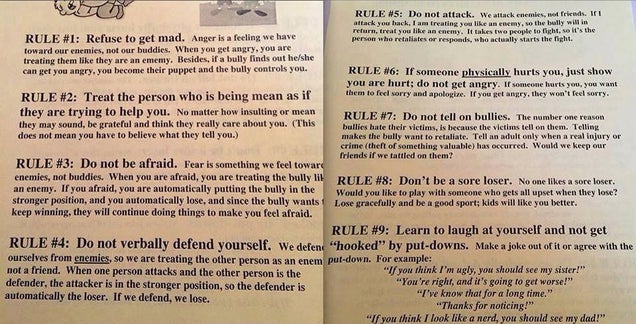 A school in Lincoln, Nebraska is wiping some major egg off its face after a horrible bullying advice flyer was sent home with kids.
Zeman Elementary School fifth-graders were recently sent home with a flyer to help teach them how to act if they're being bullied. It's more shitty than you can possibly ever imagine. Here's just a few of the highlights:
Rule #7: Do not tell on bullies. The number one reason bullies hate their victims, is because the victims tell on them. Telling makes the bully want to retaliate. Tell an adult only when a real injury or crime (theft of something valuable) has occurred. Would we keep our friends if we tattled on them?
Rule #8: Don't be a sore loser.
Rule #9: Learn to laugh at yourself and not get "hooked" by put-downs. Make a joke out of it or agree with the put-down. For example: "If you think I'm ugly, you should see my sister!"
Were these rules written by Kim Jong-il before he died? That's the only reasonable explanation for how this kind of bullshit could exist. "Do not tell on bullies" might be the most terrifying, stupid thing I've ever seen a school try and impose on young minds. I can't even bother with a line-by-line breakdown of what's wrong with all of the points in this flyer, because honestly I think all of you are way too smart for that. Just like I don't have to tell you what a serious issue bullying is and how awful the consequences can be.
These "rules" shouldn't be labeled as advice for dealing with bullies. They should be called "Ways We Can Get You Goddamn Kids to Act So We Never Have to Deal With Your Problems Ever." Also—did no one at this school give a second thought to the fact that children might read these rules and think this is how they should deal with bullies in their home life? Is someone in your family verbally or physically abusing you? Laugh it off! Make a joke about how ugly your sister is!
Don't worry though, after being inundated with outraged parents, the school district responded and apologized, with a portion of a letter written by the school's principal:
A flyer that contained inaccurate information regarding how to handle bullying situations was sent home with Zeman Elementary School fifth-graders.
[...]
Our educators at Zeman Elementary School work hard to provide accurate and appropriate lessons and education for our students in how to handle bullying situations. The flyer was sent home with good intentions, unfortunately, it contained advice that did not accurately reflect LPS best practices regarding response to bullying incidents.
The post also included a link to a better, far less shitty anti-bullying fact sheet (which apparently no one thought to Google before making this terrible flyer).
Some parents (unsurprisingly) are completely unsatisfied with this response written by a public information officer probably making six figures a year to cover the school's ass. Parents chimed in to remind the school that a Facebook post which requires the same effort as me telling people I got new lawn chairs isn't really good enough:
Ok so parents got a letter. Good start, but not the most important aspect of this! My question is: What have the students who were given bad information been told? Have they all been instructed that this was bad information and been given good information? Or is that being left to the parents?
Yes, this is the only time when the phrase "what about the children?" isn't actually all that eye-roll inducing. The district responded to parents on Facebook, stating that teachers and counselors will be addressing the issue in the future.
But perhaps the best response to the whole ordeal belongs to one Facebook participant: "1970 called, they want their flier back."
SOURCE
British State schools isolate non-Muslims
Schools in Birmingham are illegally segregating pupils, discriminating against non-Muslim students and restricting the GCSE syllabus to "comply with conservative Islamic teaching", an official report leaked to The Telegraph discloses.
Department for Education inspectors said that girls in a school at the centre of the so-called "Trojan Horse" plot were forced to sit at the back of the class, some Christian pupils were left to "teach themselves" and an extremist preacher was invited to speak to children.
The report, into three schools in the city, follows weeks of controversy over the alleged plot to "Islamise" secular schools in Birmingham and will lead to calls for intervention. The report focuses on Park View School and its sister schools, Golden Hillock and Nansen, the only primary of the three. Inspectors found that Park View practised forced and discriminatory sex segregation and has "restricted" GCSE subjects "to comply with conservative Islamic teaching".
Core elements of the GCSE syllabus were missed out as "un-Islamic" and an extremist preacher with known al-Qaeda sympathies and anti-Semitic views was invited to speak with children. At Golden Hillock, there was discrimination against non-Muslims, the report found. Its handful of Christian students "have to teach themselves" in one GCSE subject after the teacher "concentrated on the students who were doing the Islamic course".
At Nansen, Year 6 children, aged 10 and 11, received no teaching at all in the arts, humanities or music.
The document, classified "official-sensitive", describes the results of inspections of the schools last month by officials from the DfE. All three are supposedly non-faith schools run by the Park View Educational Trust.
Allegations that radical Muslims were seeking to "Islamise" secular schools in Birmingham first emerged publicly last month in a leaked letter, describing an operation purportedly named "Trojan Horse".
The letter supposedly described how activists could stir up Muslim parents to oust secular headteachers. Park View and its chairman of governors, Tahir Alam, were named in the letter as being at the centre of the plot. Mr Alam and the school have furiously denied the claims as "fictitious", "Islamophobic" and a "witch-hunt".
However, the leaked report substantiates many of the claims made against the school. It accuses Park View of 20 separate breaches of the law, the schools' funding agreement with the DfE, and the Academy Schools Handbook.
The inspectors found that, contrary to its denials, Park View did practise forced and discriminatory gender segregation, with "boys sitting towards the front of the class and girls at the back or around the sides".
The school has always claimed that any separation of the sexes was voluntary. However, the report says: "Students told us they were required to sit in the places which they were given by teachers." This constituted "non-compliance with the Equality Act" and potentially "less favourable treatment for girls". There was entirely separated teaching, in separate rooms, for some subjects, the report says.
The small number of Christian or non-Muslim pupils also suffered discrimination, the report says.
At Golden Hillock, five Christian students in Year 11 "have to teach themselves" in one GCSE subject, religious education, because the teacher gave all his or her time "to the students who are doing the Islamic course".
Sheikh Shady al-Suleiman, an extremist preacher who "is known to extol... the stoning of homosexuals, anti-Semitic views [and is] sympathetic to al-Qaeda", was invited to address students at Park View, the inspectors found.
The core curriculum at the two secondary schools had been Islamised, with GCSE subjects "restricted to comply with conservative Islamic teaching".
Children told the inspectors that in biology the teacher "briefly delivered the theory of evolution to comply with the syllabus", but told students that "this is not what we believe".
In biology, the inspectors also found that "topics such as body structure and the menstrual cycle were not covered in class, though pupils needed them for the GCSE exam . . . students told us that as Muslims they were not allowed to study matters such as reproduction with the opposite sex". At Park View, a "madrassah curriculum" was followed in personal, health and social education, the report said.
Though all the schools are supposed to be secular, the inspectors said they were not sufficiently welcoming to those of other faiths or no faith, with students at Park View encouraged to "begin and end each lesson with a prayer" and loudspeakers used to "broadcast the call for prayer across the school".
The report added that the respected non-Muslim headteacher was marginalised, and female staff at one of the schools were treated in a "rude and dismissive" way.
Teaching standards and children's safety were placed at risk after the schools' management recruited close relatives, without adequate teaching experience or proper background checks, to key leadership posts.
At Golden Hillock, any discussion of sexual orientation or intimacy was banned, affecting "the broad and balanced teaching of many subjects, including art and English literature", the inspectors found.
At Nansen, there were "no lessons in the humanities, arts or music" for one entire year, Year 6, and only "limited" teaching in Year 5. Arabic, however, was compulsory for all students — almost unheard of at a primary school.
Female staff at the schools were discriminated against, the report says. "One of the senior leaders [at Nansen] interviewed reported that she had never met a governor or been invited to a governing body meeting, although the male senior leader with similar responsibilities was invited to every meeting".
At Golden Hillock, three members of staff told inspectors that governors were "rude to women and dismissive of their input" and that some governors "will not shake the hands of female senior leaders".
The report makes clear that Park View's most senior female leader, the non-Muslim executive headteacher, Lindsey Clark, had been reduced to a figurehead, marginalised to the extent that she "was unaware of the names of some of the more recent appointments to the senior leadership team" at her own school. Last week, Mrs Clark retired.
All three schools were in reality run by Mr Alam, who had an "inappropriate day-to-day role in the running of the schools" and who received undeclared four-figure payments from them as a "consultant", the report states.
At Nansen the deputy headteacher, Razwan Faraz, "was appointed deputy only three years after [achieving] qualified teacher status", the report says. No references from outside the schools were taken up for him.
As The Telegraph revealed last month, Mr Faraz, the brother of a convicted terrorist, is the administrator of a group of teachers, governors and school consultants called Educational Activists which pursues what he calls an "Islamising agenda" in Birmingham schools.
Mr Alam, a leading activist in the Muslim Council of Britain (MCB), has a number of hardline views. In evidence for the MCB to the UN's high commissioner for human rights in 2008, he said he would "caution against advocating that desegregation [in schools] should be actively pursued" and stressed the "obligatory nature" of the hijab for Muslim women and girls.
The disclosures came as Tristram Hunt, the shadow education secretary, prepared to make a strong attack on "divisive" attempts to impose religious values on secular schools.
Speaking at the NASUWT union conference in Birmingham, he was due to say: "We cannot have narrow, religious motives which seek to divide and isolate dictating state schooling. We cannot have headteachers forced out, teachers undermined, curricula rewritten and cultural or gender-based segregation.
"Indeed, it is more important than ever in a modern, multi-cultural city like this one that schooling serves to unite, not fracture communities."
A spokesman for Park View Educational Trust said: "This is a confidential draft report which the trust is entitled to respond to within a given timescale and it should not have been made public. We are extremely disappointed that our entitlement to confidentiality has been breached and we will not comment any further."
SOURCE