The Would-Be Dhimmis Of Duke: Why Did They Cave?
The historic American nation won a victory at an unlikely place—a university campus. Of course, it didn't take long for the Main Stream Media to blame it on "threats." The truth is it came from the kind of political and cultural self-preservation reflex that America desperately needs.
Less than one week after the Islamic terrorist attacks in France, Duke University happily announced that the Duke Muslim Students Association would broadcast the call-to-prayer from the Duke Chapel bell tower [Muslim Students at Duke to Begin Weekly Call-to-Prayer, Duke Today, January 13, 2015]. But after only two days, the school reversed itself, a victory for Americans who don't want their communities resembling the Third World more than they already do. [Duke Announces Change to Friday's Call-to-Prayer, Duke Today, January 15, 2015]
After the reversal, there were claims that "threats" were responsible for the decision. But like so many campus rape and noose hoaxes, the "threats" were probably imaginary. A close look reveals that there is something suspicious about the timing of the claims.
On the afternoon of Thursday January 15th, Duke's "vice president for public affairs and government relations" Michael Schoenfeld (email him) announced, apparently with a straight face, "that what was conceived as an effort to unify was not having the intended effect." This announcement was repeated by WUNC, North Carolina Public Radio, at 3:58 p.m. The initial report mentioned no threats. [Muslim Duke Student: 'I Hope We Can Be Visible, January 15, 2015]
Yet according to a report in the Washington Post, Schoenfeld was mentioning a "serious and credible" threat by "Thursday night." The director of Duke's "Islamic Studies Center," one Omid Safi, was repeating this claim by "Thursday night." [Duke University reverses decision, cancels weekly Muslim call to prayer, by Susan Svrluga and Michelle Boorstein, January 15, 2015]
The timing is a smoking gun. If threats were the real reason for the reversal, that would have been reported first.
The Charlotte News Observer noted this discrepancy without comment. As reporter Jane Stancill put it:
At the time [of the initial announcement], they [Duke officials] said the effort to unify was not having the intended effect. They later cited threats and serious concerns about safety.
[Duke religious leaders disagreed on Muslim call-to-prayer decision, January 23, 2015]
So why the time lag?
The answer may be the university simply decided it needed an excuse so it could pin the decision on something other than public outrage. The university provided no description of any actual threat, nor has the MSM reported an actual threat. According to an article from the Associated Press, Duke vice president Schoenfeld said there were "concerns about safety and security, but he declined to elaborate on whether any specific threats had been received" [Duke cancels Muslim call to prayer; cites opposition, safety, by Jonathan Drew, January 16, 2015].
It's hard to avoid the possibility that the school fell back on the vague explanation of unverified "threats" to explain its retreat.
Of course, now the myth has taken over reality. Reporters are even trying to compare those who protested the Muslim call to prayer to religious terrorists. [For Whom the Muezzin Calls, by David A. Graham, The Atlantic, January 15, 2015]
But the reality is that Duke is an excellent example of how public pressure, especially from alumni, can force even Leftist universities to change course.
The key activist in this case: evangelist Franklin Graham, who wrote a Facebook post on January 14. And Graham knew how to get the school's attention: threaten its funding:
Duke University announced today that they will have a Muslim call to prayer from their chapel bell tower every Friday. As Christianity is being excluded from the public square and followers of Islam are raping, butchering, and beheading Christians, Jews, and anyone who doesn't submit to their Sharia Islamic law, Duke is promoting this in the name of religious pluralism. I call on the donors and alumni to withhold their support from Duke until this policy is reversed.
Evidently, some donors and alumni agreed.
Even the would-be dhimmis of Duke (dhimmi is Muslim for "second-class citizen" ) pointed to pressure from donors and alumni as the explanation. Christy Lohr Sapp, associate dean for religious life and one of the organizers of the call-to-prayer idea, griped that the university administration is "answerable to a different level… the Trustees, relationships with the medical center, relationships with alumni, they have that to deal with in a way that we [activists] don't." [Duke reverses decision to hold Muslim call-to-prayer from Chapel bell tower, by Emma Baccellieri, The Chronicle, January 15, 2015].
One Duke graduate student in "religious studies" also blamed "donors who threatened to stop supporting the university" [Duke Muslims And Non-Muslims Join For Call To Prayer, by Yonat Shimron, Huffington Post, January 17, 2015].
Who thought up this idea anyway? As one Duke Muslim student wrote in the school paper, "The idea [to allow the Muslim call] was suggested by Christy Lohr Sapp, a Christian" [Adhan, by Abdul Latif, The Chronicle, January 22, 2015].
Sapp is associate dean for religious life at Duke, and teaches theology. The picture below tells you everything you need to know about her.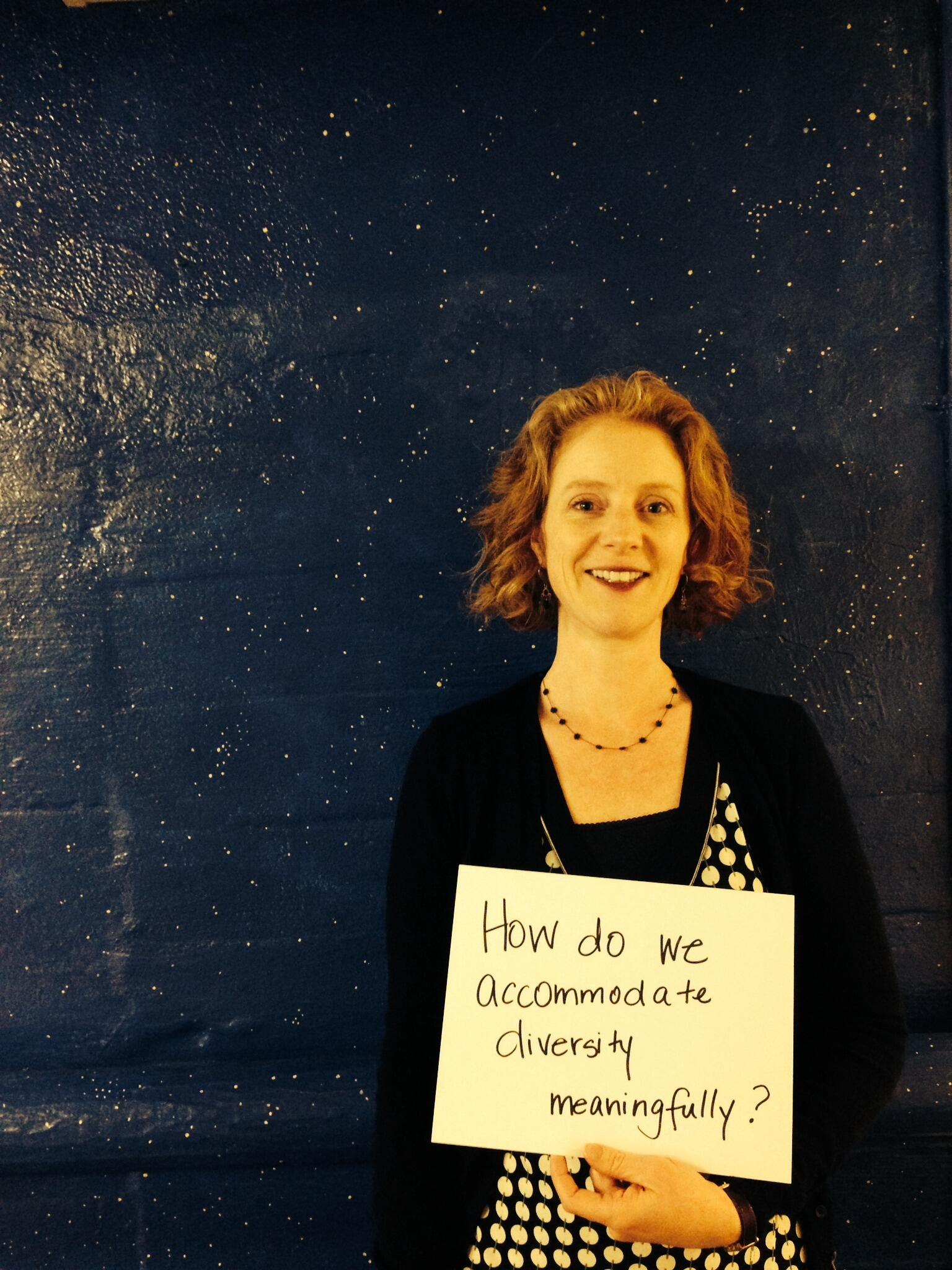 A Sapp in name and a sap in nature
SOURCE
CEOs with top college degrees no better at improving long-term firm performance than other CEOs
Whether or not a company's CEO holds a college degree from a top school has no bearing on the firm's long-term performance. And when it comes to getting canned for poor performance, CEOs with degrees from the nation's most prestigious schools are no safer than the average CEO, according to new research from the University of New Hampshire.
Conducted by Brian Bolton, assistant professor of finance at the Whittemore School of Business and Economics at the University of New Hampshire, the new research is presented in the working paper "CEO Education, CEO Turnover, and Firm Performance." The paper is co-authored by Sanjai Bhagat of the Leeds School of Business at University of Colorado at Boulder, and Ajay Subramanian of the J. Mack Robinson College of Business at Georgia State University.
"These findings suggest that both boards and researchers should use caution in placing too much emphasis on an individual's education when trying to assess their ability to lead the company and maximize shareholder value," Bolton says.
The research analyzes the relationship between CEO education, CEO turnover, and firm performance. The researchers were primary interested in the role that CEO education plays in a firm's decision to replace its current CEO, the role that it plays in selecting a new CEO, and whether CEO education significantly affects performance.
The researchers used six main measures of CEO education: whether or not the CEO attended a top 20 undergraduate school, whether or not the CEO has an MBA, law or master's degree, and whether or not the MBA or law degree is from a top 20 program. The study includes nearly 15,000 years of CEO experience data and more than 2,600 cases of CEO turnover from 1992 to 2007.
The researchers found that CEO education does not play a large role in the decision by a firm to replace its current CEO; poorly performing CEOs are replaced, regardless of their education. Education, however, does play a significant role in the selection of the replacement CEO; there is a significantly positive correlation between the education levels of new CEOs and those of the CEOs they replace.
For example, even after a CEO with an MBA degree gets fired for poor performance, the board still looks to replace him or her with new CEO who also has an MBA. Hiring new CEOs with MBA degrees does lead to short-term improvements in operating performance.
However, the researchers did not find a significant systematic relationship between CEO education and long-term firm performance. CEO education does not seem to be an appropriate proxy for CEO ability.
"Even though CEO education does not lead to superior performance by firms, firms may rely on CEO education in hiring decisions because they have few other identifiable and measurable criteria to use. All else being equal, they rely on what they believe to be the observable pedigrees of the executive," Bolton says.
"Of course, all else is rarely equal, especially when dealing with something as nebulous and potentially unobservable as managerial talent. Interpersonal skills, leadership ability and strategic vision are among the traits that CEOs should possess; these can be difficult to identify and even more difficult to measure. As a result, boards rely on those characteristics which they may be able to observe: work experience, track record, and education," he says.
SOURCE
Labour 'has screwed up' education in Wales just as it did with NHS: Tory minister to attack decline of Welsh schools as 'woeful'
Labour's record on education in Wales is a 'scandal' and even worse than its performance on the NHS, the Tories will claim today.
In the opening salvo in a new Conservative attack on the Labour-run Welsh government, Welsh Secretary Stephen Crabb will say the decline of schools has been 'woeful' and Labour has 'screwed up' education.
He will unveil a series of expert findings suggesting Wales is lagging behind England.
Applications from Welsh students to Oxbridge are at their lowest level in ten years, while only 4 per cent of schools are rated 'excellent' compared with 29 per cent in England, the Cabinet minister will say.
Wales lags behind other parts of the UK and countries including Poland, Slovenia and Estonia in international education rankings compiled by the Organisation for Economic Co-operation and Development.
The principality performed worse than the OECD average and all other parts of the UK in all key measures, including maths, science and reading, Mr Crabb will say.
By age seven, the reading ability of children in Wales is behind that of children in England and Scotland, irrespective of whether they are from families with low or high incomes.
The A*-C GCSE pass rate in Wales is 70 per cent, compared to 77.8 per cent in England. While the proportion of pupils getting five good GCSEs exceeded that of England in 2000, this has now reversed.
A report by former Labour Cabinet minister Alan Milburn last year found that pupils eligible for free school meals in England are 50 per cent more likely to obtain five good GCSEs than their counterparts in Wales.
A report last week by Ann Keane, Wales' chief inspector of schools, said that four in ten primary schools were ranked only as 'adequate'.
Mr Crabb, speaking today at the Sony UK headquarters in Bridgend, South Wales, will say: 'Young people who receive free school meals in Wales are 50 per cent less likely to get good GCSEs than those in England. That's woeful.
'When you screw up on education, the kids you fail are the ones from the most disadvantaged homes – that's Labour's legacy in Wales.
Saying "we took our eye off the ball" doesn't even come close to the level of responsibility Welsh Labour should be accepting.
'The Prime Minister is aiming to tackle mediocrity in England. In Wales, Welsh Labour are trying to silence that debate and it's the parents, pupils and teachers who they are letting down.
'Ed Miliband said himself there was "lots to learn" from what Labour are doing in Wales, so parents have every reason to be concerned about what a future Labour Government might do in England.'
Mr Crabb, who was raised by a single mother on a council estate and attended his local comprehensive, will suggest that in Wales there had been a 'retreat from aspiration and excellence for kids from the most disadvantaged homes'.
Wales' education minister Huw Lewis accused Mr Crabb of a 'base attempt to secure votes in the general election'.
He said there was evidence that Wales was closing the gap with England, adding: 'Our reforms are working, and our pupils are benefiting.
'How sad to see the Secretary of State for Wales – nominally our voice at the Cabinet table in Westminster – rubbish that achievement to please his London masters.'
SOURCE