The Campus 'Diversity' Menace Comes to Yale
It is increasingly obvious that modern Americans universities, which are less institutions of unfettered intellectual pursuit than they are "madrasas of wokeness," to borrow from the Independent Women's Forum's Inez Feltscher Stepman, are unsalvageable in most present manifestations. Though there are notable exceptions, many American universities are actually worse than unsalvageable. On-campus debauchery spoils matriculants' lingering senses of virtue and propriety, and woke classroom indoctrination and divisive intersectional poison vitiates the mutually interdependent bonds of citizenry without which no people can cohere. As Arthur Milikh soberly concluded in a 2020 National Affairs essay, "Preventing Suicide by Higher Education": "Universities that spread poisonous doctrines no longer believe in the purpose of the university."
Pedagogical and curricular debasement aside, one concrete manifestation of this now-decades-long corruption has been the engorgement of on-campus administrative bureaucracies tending to all sorts of "diversity" needs. As Heather Mac Donald's 2018 book "The Diversity Delusion" helped demonstrate, the core university mission -- ostensibly, to pursue truth and produce citizen-statesmen capable of advancing the national interest -- has been steadily undermined by the university's imbibing of various woke fetishes and "diversity" diktats like mother's milk. Even hold aside the institutionalized racism of affirmative action, modern "diversitycrat" commissars rove campus for possible Title VI violations, enforce "equitable" faculty hiring quotas and more generally seek to police and enforce intersectionality's hierarchy of alleged victimhood.
An eye-opening recent report from The Washington Free Beacon's Aaron Sibarium reveals how this cancerous operation can play out in practice. At top-ranked Yale Law School, a second-year student and member of both the Native American Law Students Association and the conservative/libertarian Federalist Society sent an email inviting classmates to an event: "We will be christening our very own (soon to be) world-renowned NALSA Trap House... by throwing a Constitution Day Bash in collaboration with FedSoc." The student added that the event would include "American-themed snacks" such as "Popeye's chicken" and "apple pie."
Within minutes of the email's mass distribution, the student's wokerati classmates were already signaling intense aggrievement. Some immediately concluded, with all the charity of Ebenezer Scrooge, that "trap house" necessarily connoted a nefarious blackface party. The president of the Black Law Students Association quickly wrote in an online forum available to all second-year Yale Law School students: "I guess celebrating whiteness wasn't enough. Y'all had to upgrade to cosplay/black face." We have fallen a long way from the stirring peroration of Abraham Lincoln's Second Inaugural Address (conveniently available online via Yale Law School) about the imperative to maintain "malice toward none" and "charity for all."
If the story were to end there, it would be unfortunate, but hardly newsworthy. But it didn't. Twelve hours after the email's distribution, the student was summoned to the Office of Student Affairs and presented by the law school's associate dean and diversity director with a laundry list of already filed grievances. The diversitycrat, a former Obama White House flunky, lamented how the student's affiliation with FedSoc, a very mainstream right-of-center outfit often criticized by frustrated legal conservatives such as this columnist, "triggered" some classmates. The administrators not-so-subtly hinted that the student could face serious professional consequences, such as not being admitted to the bar association, if he did not apologize. The diversitycrat then drafted herself an "apology" letter, Soviet-style, and oh-so-kindly "offered" the student the chance to send the apology in lieu of "character-driven rehabilitation."
But the key takeaway from this sordid ordeal is how the diversitycrat responded to the student's demurring and suggestion to instead let his classmates reach out to him individually: "I don't want to make our office look like an ineffective source of resolution." And there lies the rub.
https://townhall.com/columnists/joshhammer/2021/10/15/the-campus-diversity-menace-comes-to-yale-n2597482
*******************************************
Chicago Public Schools Back Down on Vaccine Mandate for Workers Ahead of Deadline
Vaccine mandates being enforced at the federal, state and local levels are threatening core U.S. institutions like hospitals, emergency services, airlines, and education systems.
New York Gov. Kathy Hochul, for example, had to plan for widespread worker shortages after the vaccine mandate on healthcare employees went into effect. Her proposal included bringing in the National Guard (who presumably would need to leave their civilian jobs in the healthcare field to help, thereby solving nothing) or hiring foreign workers. Other institutions are being similarly challenged, as Southwest's recent widespread cancelations over the "weather" show.
In Chicago, where Mayor Lori Lightfoot has mandated all cops be vaccinated by Friday, Fraternal Order of Police President John Catanzara is calling on officers to defy the deadline. He warned the city's police force will be reduced by half for the weekend.
"Whatever happens because of that manpower issue, that falls at the mayor's doorstep," he said.
For now, a similar staffing crisis in Chicago Public Schools appears to have been averted after the district said Wednesday that those who aren't fully vaccinated by the week's end deadline can undergo weekly Covid-19 testing.
The change came shortly after three unions representing CPS workers, including the Chicago Teachers Union, wrote a letter to Mayor Lori Lightfoot urging the city not to place unvaccinated school employees on unpaid leave if they didn't meet the deadline. As of Wednesday, 86% of CPS employees have submitted proof of vaccination, district records show.
The unions cited the testing option given to other city workers such as cops, who remain in a public battle with the mayor over the mandate [...]
[Lightfoot] had said any school employees who aren't fully vaccinated would be placed on unpaid leave and potentially disciplined. Now those repercussions will only come for any city employee who doesn't submit proof of vaccination or agree to testing.
"This disparate enforcement of the vaccine policy will leave schools dangerously understaffed, and disproportionately impact employees of color within CPS," the CTU, SEIU Local 73 and SEIU Local 1 wrote in their letter to the mayor before the updated policy was announced.
"We want every one of our members who can safely be vaccinated, to get vaccinated. But surely you are aware that our schools confront desperate shortages of staff, from janitors and bus aides, to substitute teachers and school nurses. Punitive enforcement of the vaccination policy in its current form will be ineffectual and will further destabilize already understaffed schools." (Chicago Sun Times)
There were already 2,100 Chicago Public Schools students stranded on the first day of classes, which rose to 3,300 in September, according to Illinois Policy. The bus driver shortage was only made worse after 73 drivers quit over the Covid-19 vaccine mandate. Putting unvaccinated CPS workers on unpaid leave would've caused a full-blown crisis in the city's education system.
https://townhall.com/tipsheet/leahbarkoukis/2021/10/14/chicago-public-schools-back-off-enforcing-vax-mandate-n2597442
****************************************
Cambridge college to be first in UK to return looted Benin bronze
A Cambridge college is to become the first British institution to return one of the Benin bronzes to Nigeria later this month in what has been described as "a historic moment".
Jesus College, University of Cambridge, will return the bronze cockerel to Nigerian delegates on 27 October, in a handover ceremony that Nigerian officials say offers "hope for amicable resolutions" to the ongoing disputes over the ownership of cultural properties.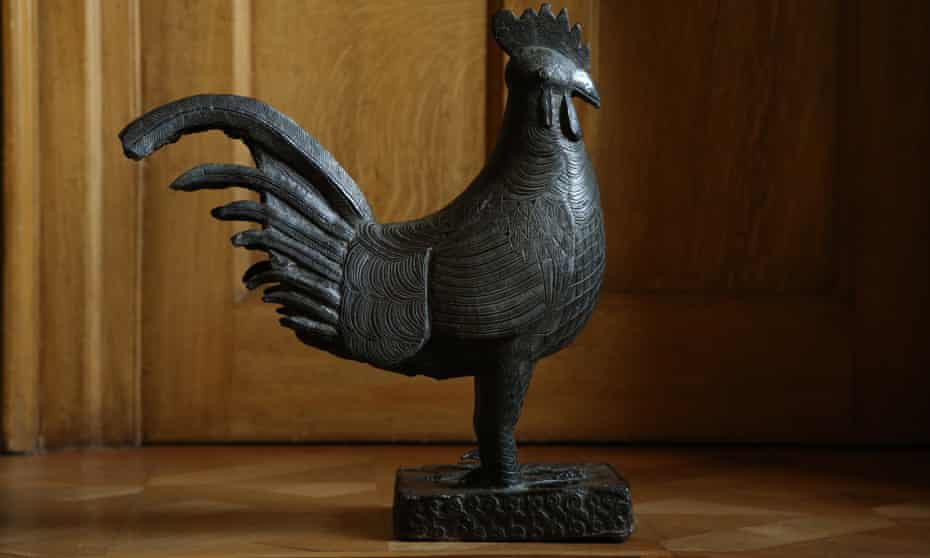 The Okukor, described by the college as a "royal ancestral heirloom", was taken from the kingdom of Benin, which was later absorbed into Nigeria, during a punitive expedition in 1897 when thousands of bronzes were looted by British forces.
Its return is expected to spark a wave of repatriation ceremonies, as the cultural world continues to reckon with concerns over the ethics of plundered historical artefacts.
"We are indeed very pleased and commend Jesus College for taking this lead in making restitution for the plunder that occurred in Benin in 1897," said the oba of Benin, Omo N'Oba N'Edo Uku Akpolokpolo, Ewuare II.
"We truly hope that others will expedite the return of our artworks which in many cases are of religious importance to us. We wish to thank [Nigeria's] President Buhari and our National Commission for Museums and Monuments for their renewed efforts in securing the release of our artefacts on our behalf."
The oba also thanked the student body of Cambridge for "bringing to light the historical significance of this revered piece of the royal court of Benin"."
The Okukor was removed from public display at the college following calls from students for it to be sent back in 2016. The college then set up a legacy of slavery working party (LSWP), comprising fellows, staff and student representatives, to explore the historical, legal and moral status of its ownership of the bronze.
The LSWP examined evidence showing the statue was looted directly from the court of Benin and was given to the college in 1905 by the father of a student.
After Jesus College announced its decision to return the bronze in November 2019, a host of regional museums committed to or said they were also considering returning artefacts.
The UK retains hundreds of Benin bronzes – plaques and sculptures dating to the 13th century, made by artisans from the Edo culture. They were distributed from private collections and in some cases donated by soldiers who took part in the 1897 looting. Historically, much of the focus has been on the British Museum, which holds 900 objects – the largest collection in the world.
Sonita Alleyne, the master of Jesus College, said: "This is an historic moment … it is the right thing to do out of respect for the unique heritage and history of this artefact.
"I would like to thank the LSWP for its diligent and careful investigation into the provenance of the bronze, to the fellows for their keen support for its restitution, and to our students who pioneered early calls for this."
The campaign to repatriate Benin bronzes gained momentum when Bernie Grant, one of Britain's first black MPs, made vigorous appeals in the 1990s for their return. But it has been a contentious debate that has recently become embroiled in culture war clashes.
https://www.theguardian.com/education/2021/oct/15/cambridge-college-to-be-first-uk-return-looted-benin-bronze
***********************************
My other blogs: Main ones below
http://dissectleft.blogspot.com
(DISSECTING LEFTISM)
http://antigreen.blogspot.com
(GREENIE WATCH)
http://pcwatch.blogspot.com
(POLITICAL CORRECTNESS WATCH)
http://australian-politics.blogspot.com/
(AUSTRALIAN POLITICS)
http://snorphty.blogspot.com/
(TONGUE-TIED)
*******************************